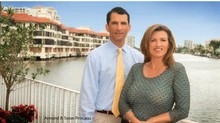 SUSAN E. PROCACCI - ARMAND PROCACCI


WE SPECIALIZE IN PROPERTY MANAGEMENT AND SHORT SALES

All of Us at The Procacci Group thank You for Voting us... "Best in Client Satisfaction" Gulf Shore Life has awarded Realtor Susan E. Procacci its FIVE STAR award for "Best Realtor in S.W. Florida for Client Satisfaction"
Susan Procacci, PA has always been in sales, marketing and advertising and began her real estate career in Naples, Florida more than eight years ago. She works with Keller Williams Realty Naples, one of SW Florida's leading real estate firms and has been awarded "Top Producer" consecutive years.

What differentiates The Procacci Group apart is their extremely high level of integrity, energy, hard work and relentless hours dedicated to satisfying all their customer's needs. They do more than sell a property to an investor. They will manage the property, coordinate contractors, painters, carpenters… whatever is needed. They will find tenants and stand behind their clients every step of the way. This has earned them tremendous loyalty from all of their buyers.

When selling property the Procacci Group spends the advertising dollars, marketing and networking to get the job done. They leave no stone un-turned and try and find creative solutions in a difficult market.

There is no customer whose needs are too large or too small. They truly embrace a pioneer spirit. Susan, her husband Armand and the rest of the team roll up their sleeves and set out to accomplish their client's goals. They achieve and get results!